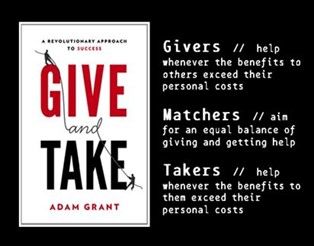 Give and Take: by Adam Grant.
Adam Grant defines three different styles of leaders: 1) givers, 2) takers, and 3) matchers. Matchers try to create a balance between giving and taking. Most of my life, I thought I would be successful as a "matcher." Grant convinced me that giving is the most successful reciprocity relationship.
Grant argues that reciprocity cannot be governed by self-interest and that the best leaders are givers. Givers focus on what others need from them and are generous, sharing energy, time, knowledge, and ideas with all. Givers create a safe and positive environment for learning, communicating, and creating. Grant also notes that givers need to set boundaries as they work with others, building social support networks while enhancing their team.
Other equally useful books by Adam Grant include:
1. Originals: How Non-Conformists Move the World
2. Think Again: The Power of Knowing What You Don't Know
3. Option B: Facing Adversity, Building Resilience, and Finding Joy
As a bonus, Adam Grant's reading lists are also a wonderful resource.
Link to website:
Link to TED Talk: